Septage Screens
by
Lakeside Equipment Corporation
The Septage Acceptance Plant is a pre-packaged unit for the pretreatment of septage. This pre-engineered unit will remove the unwanted troublesome debris such as plastics, hair, and hygienic materials from sludges, septage, and other tankered liquids prior to further processing in your treatment plant. Optional grit and grease removal features can be furnished on all sizes. The Lakeside Septage Acceptance Plant features the Fine Screen as the screening mechanism.

The Lakeside Septage Acceptance Plant is made in the USA and features a Lakeside Fine Screen.
.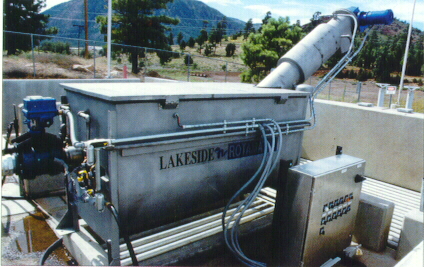 Constructed in stainless steel, the Raptor Septage Acceptance Plant comes in three (3) sizes and two (2) models:
Size

Rating
(GPM)

31"

400

40"

700

47"

1200
Model

Function

Septage Acceptance Plant

screening

Septage Complete Plant

screening and grit removal
(optional grease removal)
Note:
The Lakeside Septage Screen can also be mounted in an open channel.
septage, scum, , rotomat, rotomats, hycor tries, sludge, septage screening, sludge screening, hauled waste, wastewater, septic waste, septic screen, liquid waste, sewage screen, mechanical bar screen, debris, septage receiving station