Complete Plant
by
Lakeside Equipment Corporation
The Complete Plant is a pre-engineered unit to provide preliminary treatment of wastewater or septage. In one vessel the Complete Plant combines screening, grit removal, and optional grease removal. The Lakeside Complete Plant is available in several sizes and models to handle your wastewater needs.

The Complete Plant offers many benefits:
Superior screening with the Raptor® Fine Screen, Microstrainer, or Wedge Screen.
Reduced engineering costs as the unit is pre-engineered by Lakeside.
Combines screening and grit removal in an integrated unit to minimize the area required: a smaller "footprint". Less space means less expensive buildings and a reduction in air volume to be heated or exchanged.
Low headloss of less than 18 inches across the unit will save pumping costs.
All stainless steel construction for long equipment life and reduced maintenance.
Quick and easy installation since the unit is shipped in only 4 main components.
Easy access to screening and grit equipment for maintenance without entering the tank.
Integrated design save design and construction costs by eliminating expensive concrete forming, extra piping, valves, gates, and other appurtenances required by conventional screening with separate grit and grease removal processes.
Integrated Control saves design, co-ordination, and installation costs.
Made in the USA without dependancy on imported components as required with competing screen designs.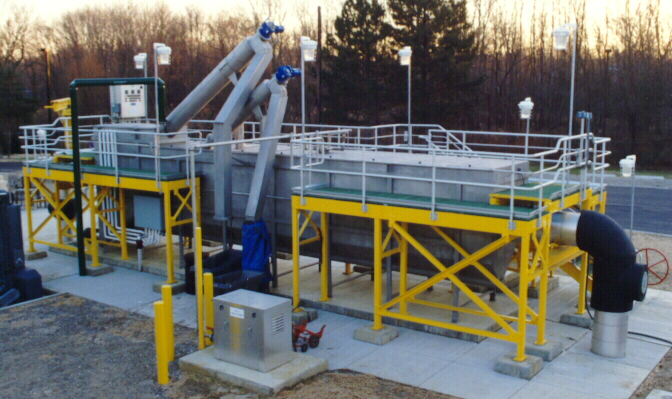 1.7 MGD Complete Plant with Grease Removal
Woodstream WWTP, Marlton, NJ
For more information, request Complete Plant Bulletin #2315.
grease removal, grit removal, headworks, Lakeside equipment corporation, raptor fine screen, septage, combi unit, complete plant, grit and grease, waster water screening